Tourism / Summer / Kiten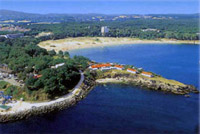 The resort village Kiten is situated in the southeastern part of Bulgaria, on the Black Sea coast, 55 km southeast of the center of the region – the town of Bourgas, 5 km south of the municipal center Primorsko and 12 km northwest of the center of the neighbour municipality – Tzarevo. The resort lies to the north of the mouth of the river Karaagach /the Kitenska river/ and part of it on the small peninsula Urdovizaà

Its shores are sheer and 10-15 m high. The peninsula is about 120 m long and from 60 to 80 m wide. The strip of land that joins it with the continent looks like a neck and is very narrow – no more than 40 m. Now a great part of the village resort spreads out of the peninsula.

Very romantic is the picturesque nature beauty and the two comfortable, cozy beaches: the northern – Atliman and the southern – Karaagach. Between them, a peninsula with the mystic name Urdoviza, cuts deep into the sea.