Tourism / Summer / Nessebar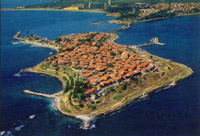 Nessebar is the most picturesque town of the Bulgarian Black Sea Coast. It is situated on a small peninsula connected with the mainland by a narrow causeway. During the last 45 years Nessebar has extended on to the mainland. Big hotels and holiday houses were build along its beautiful beach.

The Old Town is only 850 m long and 350 m wide. During various periods of its existence, it has lost 1/3 of its territory, eaten away by the sea.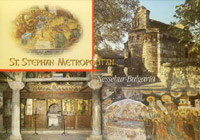 Nessebar is the historic treasury of Bulgaria and in 1956 it was declared and recognized as museum city – archaeological and architectural reservation. In 1983 Nessebar was included in UNESCO's list of the monuments of world history.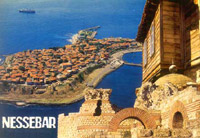 Today the old part of the town is an attractive place for romantic walks along the narrow cobbled streets, among the little shops offering hand crafted souvenirs – pottery, crocheting, and jewelry. The wonderful ancient ambiance is the background for an unforgettable holiday opportunity.